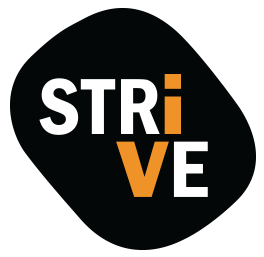 Each year a new group of VICTA Young Ambassadors come together to help shape STRiVE, our e-magazine aimed at you!
Do you have a passion for sharing your voice and communicating with others? Do you have an editorial vision for STRiVE you're dying to share? We have dreams of more video articles, more social content and growing our bank of inspiring stories and honest voices.
If you think this could be you, then we'd love to hear from you.
More about the programme
Our Young Ambassadors Programme is a volunteering opportunity for young adults aged 18 to 29 years who are blind or partially sighted shaped around employability with projects designed to strengthen key skills and build business understanding, all supported with bespoke mentoring.
We are looking to appoint up to six Young Ambassadors to work with us on STRiVE, VICTA's e-newsletter, designed and created by our previous teams of Young Ambassadors. We are looking for enthusiastic individuals to bring their own personality to STRiVE and share their voice by generating video, audio and written content for our Student Portal. Whether you are a budding journalist, emerging vlogging star or simply want to learn, we have a place for you on our team.
Skills for your future
Our aim is to provide our Young Ambassadors with a meaningful and challenging but fun volunteering experience that will develop invaluable leadership skills and increase confidence enhancing future prospects.
Throughout the programme, we will work with each Young Ambassador to show how their learning and newly acquired skills can translate into a strengthened CV, job application or personal statement.
How to apply
To apply for this volunteer opportunity, you need to be aged 18 to 29 years and be registered or registerable as blind or partially sighted. Applications close on Friday 11 February 2022. Successful applicants will be expected to attend the VICTA office in Milton Keynes for four days during a one-year term starting in March 2022.
Please email your CV and covering letter explaining why you would like to be part of the VICTA Young Ambassador team to Emily McMillan at emcmillan@victa.org.uk
Want to know more?
Read Harriet's article about her experience as part of the Young Ambassador team >