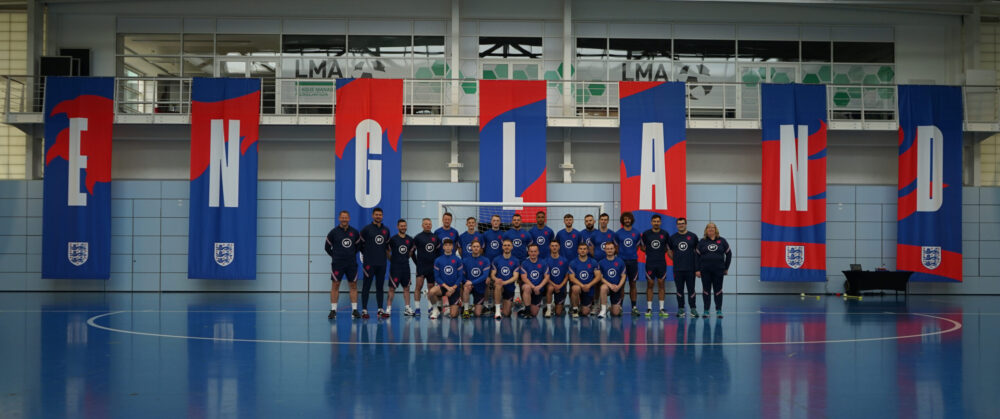 We were lucky enough to meet the England Men's Partially Sighted Futsal team at their training session and chat to them about the game, their experiences and ambitions!
It was clear from seeing the team train that they're going from strength to strength and are on track for big things in the IBSA World Games in Birmingham in 2023. Talking to the players about their journeys into Futsal and how being part of the team has helped them to grow not only as players but also off the pitch, has been truly inspirational. In terms of having a vision impairment, the sport and team comradery has played a big part in flipping what at first seemed like a negative into a positive part of their lives. Maybe you will be tempted to get involved yourself!
"This group of players is special and I think anyone who has been around this group can vouch for that. Personally I've been around them since I was very young and it was the first place that I came to where my sight wasn't a problem."
Thomas Lamb, 26
"Go for it. Dive head in. It doesn't matter if you're not someone who's got potential to be an England player or simply just be a part of the recreational league. Just get yourself amongst it and learn what it's like to be around other visually impaired people and not only will you really develop as a footballer, you'll start to learn a lot about yourself as well."
Adam Lione, 28
The interviews
Meet the players!
We chat to England Men's Partially Sighted Futsal players – Adam Lione, Liam Spinks, Thomas Lamb, Harry Macdonald, John McDougall and Josh Pugh.
Chat with Head Coach, Steve Daley MBE
Head Coach Steve Daley MBE chats to the VICTA Student Portal about the challenges and triumphs of being part of the Partially Sighted Futsal squad and the privilege of being part of the team members journeys both on and off the pitch.